Last updated April 19, 2008. We're open! Party announced below. Also, see the map below.
WingFling 2008 is a festival for wing creators and fans in Second Life.
The festival is open from Saturday April 19th to Sunday the 27th in the Platinum region.
Wing fans, you can join the "WingFling" group for news leading up to and through the event.
We'll have a wingy end-of-festival party on Sunday the 27th from 6 to 8 SLT -- DJ Seven Shikami -- be there! :)
Contact Jen Shikami with any questions.
If you'd like to help promote or blog the event, here's a link graphic you can use. Thanks!
Map of the festival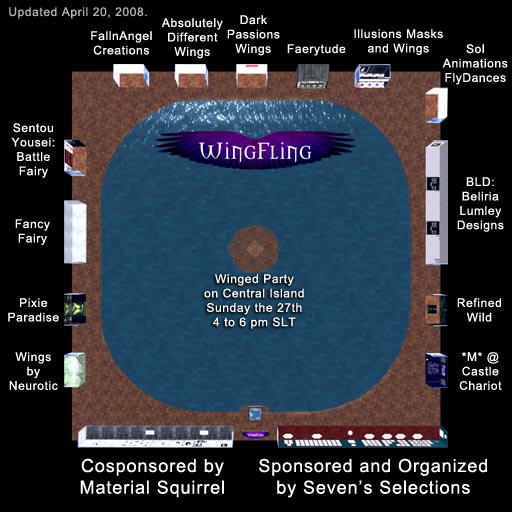 For wing vendors
Please only sell wings and wing-related items at the festival. :) You could post a sign describing the other things available at your main shop, though!
I'm not trying to turn a profit off of this festival. I just think it'll be good for us, collectively! Any money I make off of booth fees that goes above and beyond the $40,000 cost of the sim rental will be donated to Child's Play. Here's how booths will work:
Cost is $1,000 per booth for the length of the festival. Due when the reservation is placed. (See note below about profits.)

Since it's first come, first served for reservations, please reserve A.S.A.P.!

There are still booth spaces available. Then I'll start a wait list.
A booth is 20 meters wide by 10 high and 10 deep. You can reserve more than one if you want; I'll group them together.
Each booth will grant you 100 prims to build vendors with, or 100 256x256 textures, whichever comes first. For reference, a 512x512 texture = 4 256x256 textures. I'm trying to keep texture weight down to avoid lag.
Also to avoid lag, please don't use temp rezzers or actively flapping or animated objects (beyond those worn by visitors!)
It's not required, but I suggest sticking with single-prim vendors. That way people can easily see all your wares at once after the textures load, rather than having to page through a multi-vendor. If you do use a multi-vendor, please set it to silent or whisper mode.
Please, no hovertext on shared (side) walls.
Please, no passive landmark or notecard givers. Instead, I suggest including a prim in your booth that they can click for a landmark to your main shop.
I can send you a notecard-giving poster to promote the event in your shop!

Set-up will be all day Friday the 18th. I'll check booths as they go up to make sure they meet the guidelines above.